When Oscar and Charmaine Rebolledo's new home was finished they were so keen to move in they slept on the floor without furniture for the first night.
The couple called on Kurmond Homes to help create their six bedroom dream home to accommodate their extended family including foster children, and entertain family and friends.
The Rebolledos, their eldest adult daughter and two grandchildren share the home, and regularly have other family members and foster children staying over, to fill their new home with love and laughter.
For Charmaine, her private retreat including a full size bath in the master ensuite was her must-have feature. For Oscar, it is the large open plan living area, opening out to an over-size alfresco space.
They spent many, many hours looking at hundreds of floorplans online as well as visiting display homes of dozens of builders before they selected Kurmond Homes. The Rebolledos built their previous home 16 years ago at Minto, so they had a good idea of the building process and what it involved.
"We knew the features we wanted, and Christine from Kurmond was so helpful and accommodating by modifying existing designs and facades to meet our requirements. Her amazing customer service played a big role in our decision to go with Kurmond.
"After our extensive research we settled on the layout of Kurmond's Aria 38, with the exterior façade of the Glenleigh 36 which is more traditional than many modern homes," said Oscar Rebolledo.
"Christine took plenty of time with us and even got out her scissors and sticky tape and pieced together our dream layout.
"The other thing we really like about Kurmond is the inclusions package that offered excellent value for money. It was really complete, and we chose a few minor upgrades.
"The start of our building journey was a nightmare. Our block of land slopes down from the front and required excavation. We were responsible for the land preparation, but Kurmond offered us some great advice, making a difficult situation less challenging. Kurmond also saved money on the fire report by providing the right advice," said Rebolledo.
The build of the new home went over the timeframe by just three weeks which Rebolledo concedes was impressive, considering how much rain Sydney experienced during the time, and other COVID pandemic supply delays.
"I was also impressed with the regular communication we had with Kurmond throughout the build. We had a call scheduled each Friday, and although Kurmond missed a couple of these I'd still compliment them on their updates.
"Our Supervisor Phil Huntington always took feedback well, and he was very direct and thorough. I liked his old school approach. Coming into the build process I was very sceptical about the building industry in general, and I'm pleased to say Kurmond employs a bunch of amazing people.
"We moved into our new home in early December last year and we absolutely love it, including the layout, the colours, and more. Our only disappointment is a few issues with some finishes but I'm confident these will be rectified with the 90 day warranty, for which Kurmond has encouraged us to compile a list," added Rebolledo.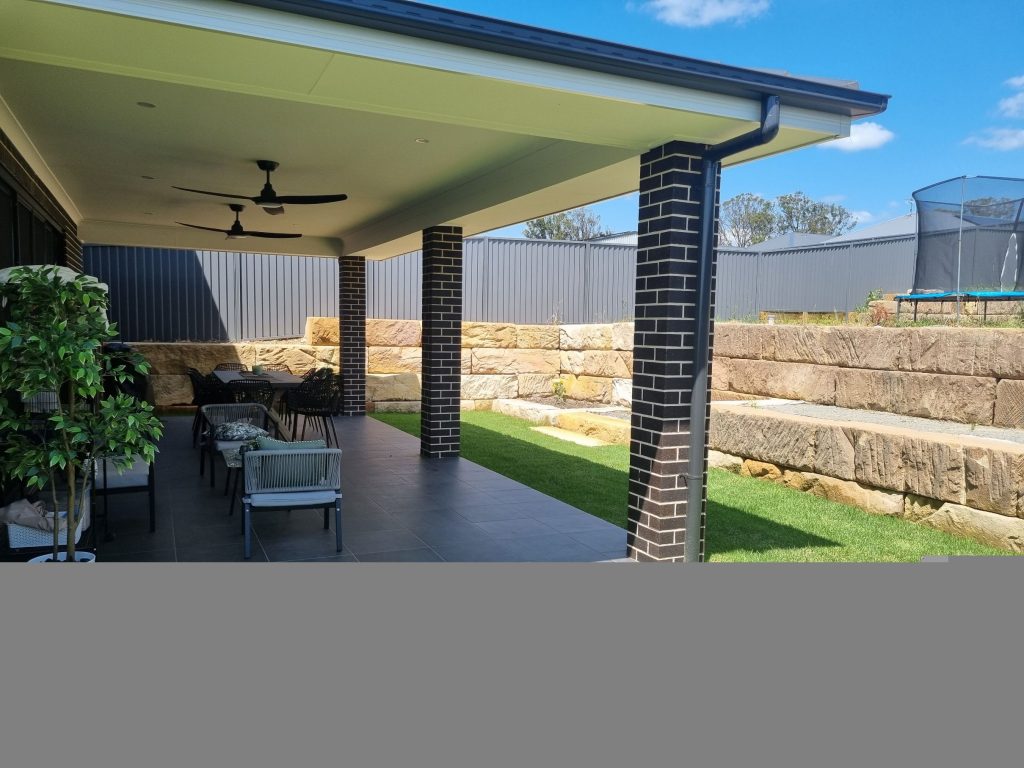 "I particularly love our large alfresco area that opens out to our retaining wall. It's like a colosseum and is topped off by our basketball court at the back. It will be well used when we entertain and has already been well tested," he concluded.
Oscar Rebolledo has already recommended Kurmond to his sister who is now building with the company.