It's time to look ahead and see what home design trends to watch out for in 2023. The Kurmond Homes Design Team and Colour Studio have identified the emerging trends in houses based on the features their customers have been requesting and the influences coming from overseas.
Here we discuss some of the top trends, including those for home exteriors and interiors.
Sustainability
With sustainability being an obligation in new house designs, people are embracing it and making it a trend. More often, home buyers are looking beyond what they must have and towards the options they can add to make their home even more sustainable and more cost efficient.
Sustainability features in the home include:
locally sourced materials and furniture
energy efficient appliances
eco-friendly paints
energy efficient lighting
drip irrigation for plants
low maintenance lawns and gardens.
Locally made products are increasing in popularity. It's less about sourcing those fittings from overseas and more about having them designed and made in Australia with locally produced materials.
Home exterior
Balconies and outdoor living
Many people are maximising land space by building two-storey dwellings. An important part of that design has been to incorporate balconies, particularly off either the master bedroom or the upstairs living area. The balconies should be large enough for an outdoor setting or even better, outdoor lounge chairs.
With its outdoor ambience, a balcony gives the impression of increased space, adding fresh air and natural light. It's a perfect area to relax, taking in the sounds (or quietness) of the outdoors and enjoying the view. If possible, the balconies should be north-facing to avoid the intense afternoon Australian sun.
For your balcony to give you both privacy and openness, incorporate a solid wall at hip-height with a transparent safety strip to maximise light.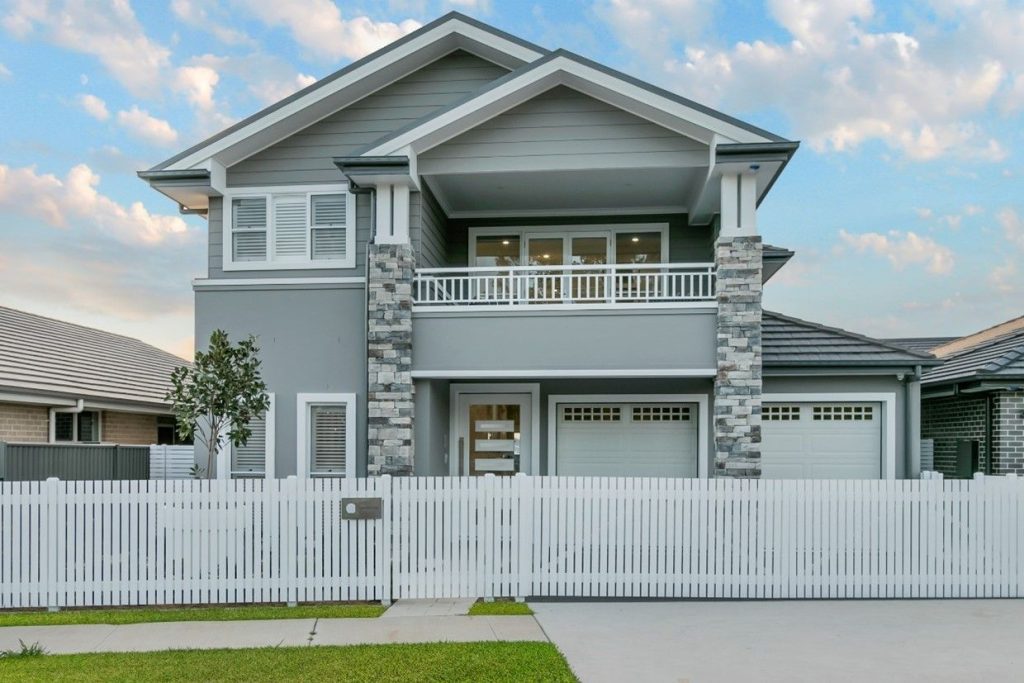 The Kurmond Iris 32 with its choice of facades offers a perfect example of a home with a generously sized balcony.
Another trend that remains very popular is the downstairs alfresco space. Opening the doors to an exterior entertainment area blurs the lines between indoors and outdoors while maximising your living space. Big concertina doors give you the opportunity to open your home to the outside area.
Garden spaces
The garden appearance should complement the home, not overshadow it. The type of garden you have will depend on your desire to upkeep it. And the great thing about gardens is that it's easy to change what you have. Climate-resilient gardens are still the trend – low on maintenance, high on appeal. They suit Australia's warm, dry climate.
Garden spaces have become compact, leaving room for lawn or paved entry, with softened edges and paths, giving a welcoming feel to the front of the home.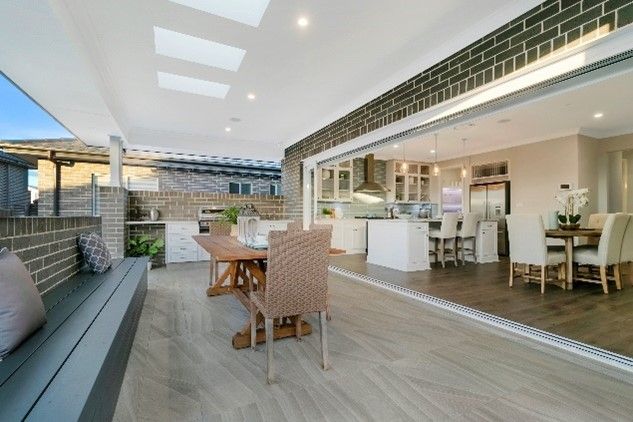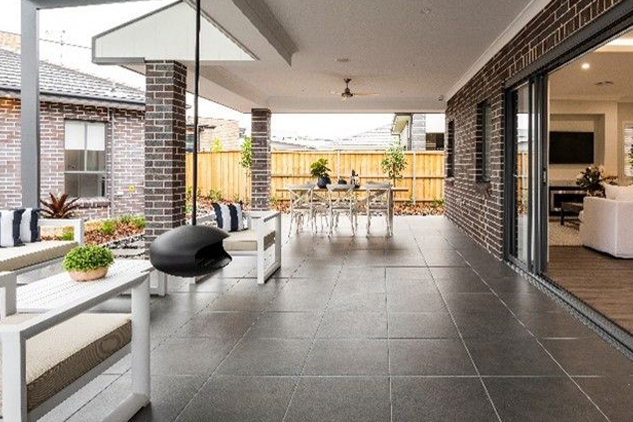 Inside the home
Organic shapes and natural textures
Nature is full of beautiful patterns, colours and shapes, so it's no wonder inspiration for design trends often originates from nature. Warm neutral and coastal colours, such as beige, brown and cream, continue to be popular, but surprising tones are emerging.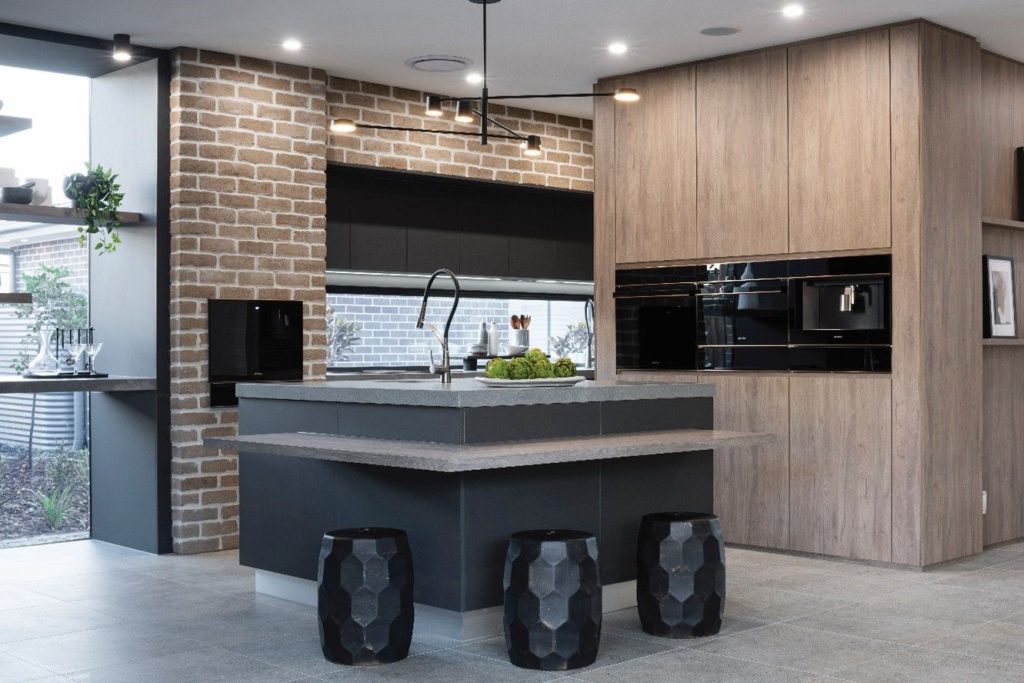 Woodgrain is extremely popular with around 98 per cent of Kurmond clients requesting woodgrain joinery. The colour adds a natural, relaxed feeling to the home.
Black is being used less as a pop-out accent of trims and features and is gaining popularity as an overall bold theme. Black adds dramatic masculinity to a room.
Textured walls
Mixed materials and tactile textures are increasingly popular, adding a subdued dynamic to a room. Mediterranean and Venetian plasters are a white render that offer a naturally soft white finish with a textured effect. The plaster gives a room an old-world charm and also happens to be good at covering imperfections on walls. The effect has become very popular in Australia and adds beauty and dimension to an otherwise flat wall. A textured render can also be used on ceilings.
Curves
Nature is filled with rounded shapes and the human eye tends to prefer looking at curves because they suggest fluidity and a gentle progression from one form to the next. Curves are perceived to be more beautiful than hard edges and corners. In the home, curves add a soft and opulent touch.
Curved benchtops in kitchen joinery, such as the island benchtop, is a popular choice. Kurmond is also seeing an increase in popularity of curved staircases and walls for an even more dramatic effect.
When choosing curves, you should ensure your designer and builder are experienced, because it takes an expert eye to know whether curves will work aesthetically. The Colour Studio at Kurmond Homes has specialist interior designers who can advise you on whether curves are a good choice for your home.
Raked ceilings
The ceiling can often be overlooked as a home design feature, but we recommend giving it some serious thought.
Right now, raked ceilings are popular. Raked ceilings are those that slope, often peaking towards the middle of the room, which makes the room feel longer.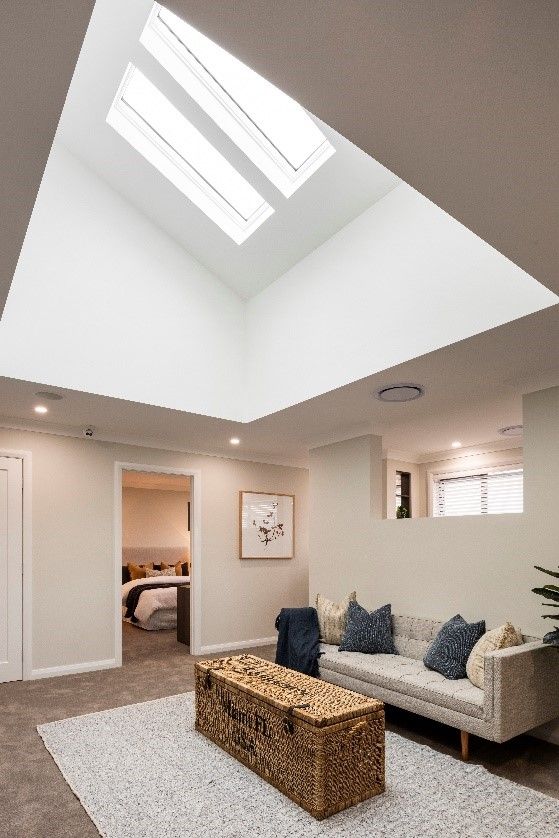 "A raked ceiling creates angles and dimension, bringing the eye upward, giving the illusion that the room is bigger than it is," said Amanda Rylewski, Colours and Design Manager at Kurmond Homes. "A raked ceiling is ideal in the living area of an open planned home," she said.
You can add a skylight to a raked ceiling to add natural light. It also makes a room feel spacious and airy, and the bonus is that it's a sustainability feature, reducing the cost of lighting. See Kurmond's Glenleigh 41 design as a great example.
Mixed metals
Using mixed metals on tapware, door handles and cupboard handles has a become popular trend. Mixed metals give a contemporary feel and open a range of decorating options for tiles and wall colour. Although mixed, the aim is to achieve a consistent flow throughout the home.
Conclusion
From the start of your home building process, the Kurmond team is there to help you plan and customise your home.
Kurmond's Colour Studio offers expert advice on your personal selections. They can help you with design trends and fashions on the choice of bricks, style of lighting, appliances, benchtop materials, windows, stairways and much more. Their objective is to ensure you have the home that suits your preferences and lifestyle.
You're invited to visit any one of Kurmond's display homes at Sydney's most popular display villages for inspiration and trend advice.
Read More Kurmond Articles: