Duplex homes are being built more than ever, and it's no wonder. Building a duplex is a great way to maximise space on a suburban lot while also building wealth by creating two dwellings from one.
If you are considering building a duplex, make sure you speak to a reputable home builder who has extensive duplex-building experience and a good portfolio of design options to choose from, such as Kurmond Homes.
Duplexes are magnets for design trends, often setting the trends for other forms of homes. This is probably because duplexes are popular with young homeowners who like to set and follow fashions.
Let's have a look at some of the latest trends in duplexes.
Distinct facades
Traditionally, one side of a duplex is a mirror image of the other. However, the trend now is for each side to have a unique appearance. It can be a significant difference that includes a distinct building design, or it can be a small cosmetic difference. So, the facades of modern duplexes are often different, giving each side a unique, yet complementary look.
A consideration on which way you want to go with the difference could come down to money, as different designs will include varying costs. It may also come down to block configuration and the environment, such as the location of trees. It's important to consult the home builder's design team for advice on this trend to ensure costs don't become excessive.
Kurmond Homes offer a range of distinct facades to choose from with their duplex designs.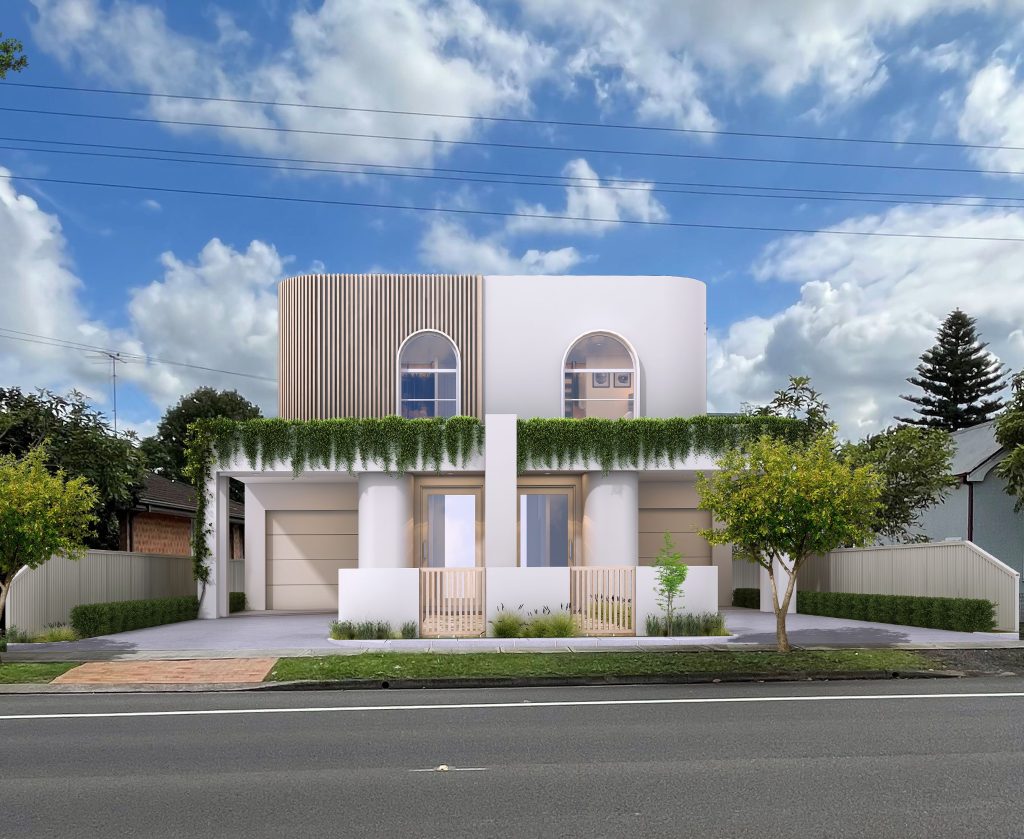 Home office
Many people had a taste of working from home during the pandemic and saw the value in it. So, including a home office in a new home design is now a necessity.
It's important to have a dedicated home office space rather than it simply being part of your loungeroom or bedroom because you don't want people peering into your home, eg. your bedroom, while you're on a zoom call. It's also good for your wellbeing to separate your work life from your home life.
The office doesn't need to take up too much floor space, but it should be practical, comfortable, and quiet. The home office should have plenty of natural light and airflow and feature light colours and minimal clutter to ensure you have a productive solo working environment.
As you might have in the office, plants and beautiful artworks are a great addition to the home office.
Soundproofing
An offshoot of the home office trend is the trend towards soundproofed homes. Naturally, when working from home you want outside distractions minimised. In localities that are prone to external noise, such as under flight paths and on busy roads, soundproofing will be a higher priority.
There are many ways in which a duplex can be soundproofed, including double glazed windows, walls with acoustic insulation and sound-absorbing floor coverings. It's also important to bear in mind that duplexes are two dwellings next to each other, therefore the barrier wall should be soundproof so the neighbour's noise doesn't impact your life, and vice versa. The Kurmond team can advise you of the best soundproofing options for your circumstances.
Alfresco
Australians love outdoor living, so it's no surprise that having an alfresco area is a popular trend. As duplexes are about maximising land space, outside living spaces should be carefully planned to optimise the available space.
The current trend is for an indoor living area with large doors that can be thrown open onto the alfresco, creating a seamless indoor/outdoor area that's perfect for entertaining. It is like increasing both the indoor space and the outdoor space with a beautiful big entertainment area. The design can incorporate the kitchen, dining, living and alfresco – what a great living and entertainment space!\
Sustainability
It's the buzzword of the times: sustainability.
Sustainability is:
avoiding the use of materials that cannot be recycled
using materials that have a long life
using products that cause minimal harm to the environment.
While a focus on sustainability is not confined strictly to duplexes, as mentioned above, duplexes are a type of housing where the owners are keen to adopt trends, and this is evident in the early adoption of sustainable practices.
Sustainability includes installing devices within the home that are better for the environment than traditional products. Products with sustainable options include appliances, lighting, heating and other products that require energy, tapware, and the home's water supply.
The construction industry is one of the largest contributors of solid waste in Australia and is also one of the industries leading the way in innovation and sustainable practices. Consult your builder about how your duplex can be built with a priority on sustainability.
Conclusion
With duplexes being a trend in home building, it is understandable that duplexes are also setting trends that are incorporated into other home designs. If you are considering building a new duplex, be sure to talk or enquire with our friendly team at Kurmond Homes who have significant experience in designing and building duplexes. With a great range of designs to choose from, Kurmond Homes has built hundreds of duplexes in and around Sydney and is a great starting point for your duplex building journey.