A popular first step in finding a home design that suits you and your family, and ultimately a builder, is to visit a display home village like the new Homeworld Leppington. But with dozens of homes on display, it's quite easy to become overwhelmed by the choices and leave confused.
That's why it's important to do some research before you visit a display village, and to decide what you and your family are seeking in a new home.
Building companies like Kurmond Homes choose to display their homes because it's an ideal way for them to demonstrate the build quality, and to be available to guide potential customers along the building journey.
The new Kurmond Homes Evoque
The Evoque that Kurmond Homes has built at Homeworld Leppington is a new design that was recently added to the Kurmond range. It's a spacious five-bedroom home, and one of the things that sets it apart is the strong focus on the kitchen with a large separate preparation area, that is complemented by a more traditional kitchen.
At Leppington, the Evoque features the Balmoral façade, giving it a robust, masculine look that continues inside the display home.
Its grand entrance includes a timber staircase with wide treads at the bottom that are underlit and make a strong statement. This is complemented by a screen of fixed timber louvres at the base of the stairs and the top.
The Evoque is available in two different floor plans and a choice of six different facades and can be adjusted to suit different blocks and families' requirements.
Kurmond's in-house Colours and Design Manager Amanda Rylewski, says "We deliberately chose a robust, masculine look with this home to help it stand out from the crowd. This look is not only provided by the colour choices but also by the textures and materials. It's a look that I love, but I know it's not for everyone which is why our buyers choose their own look with our guidance.
"When we're creating our display homes, we deliberately fit out houses based on our inclusion packages so aspiring home owners can really see what they'll get with Kurmond Homes," said Rylewski.
Spacious kitchen and beyond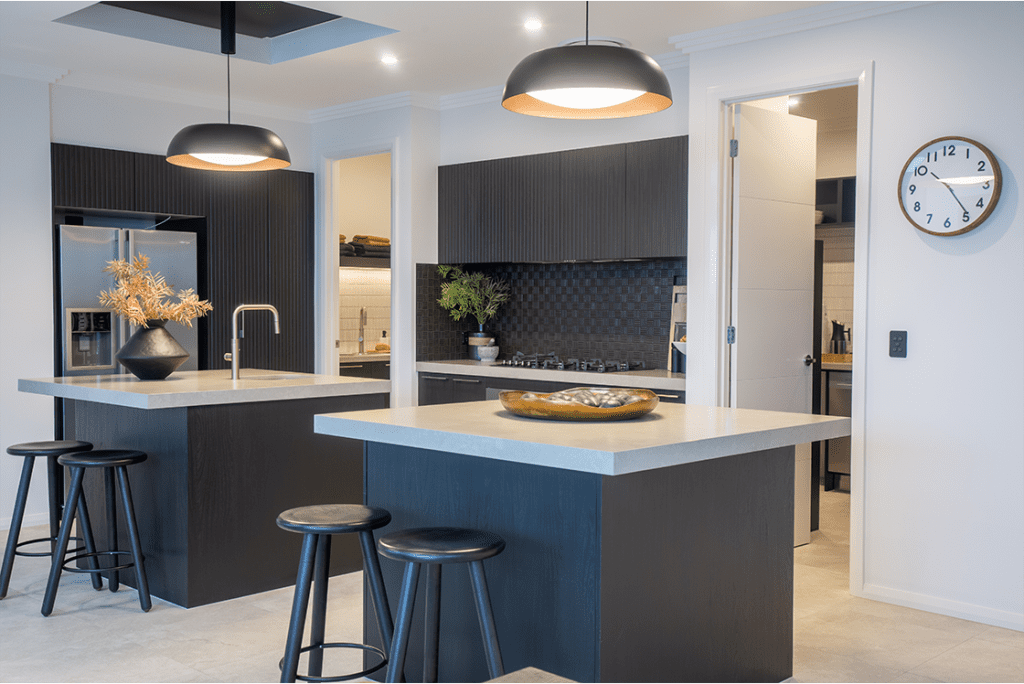 The star of the show in the Evoque design is the large kitchen with its separate preparation zone, also known as a butler's pantry. The adjacent laundry completes the wet-zone of the house keeping all the utility areas together.
"A lot of customers have told us they want a large separate butler's pantry in their kitchen so they can do all their preparation behind the scenes and then welcome guests into their living zone which includes lounge, dining and kitchen areas.
"Quite unusually we've chosen to have two island benches in the kitchen in the Evoque display home – one of these is functional and the other is more for entertaining. It shows the versatility of the design, and of course, would-be Evoque owners can choose to have just one large island bench," said Amanda Rylewski.
The kitchen features black timber joinery and black tiles providing a dramatic look that contrasts with the other colours and textures in the living area.
The bathrooms – one downstairs, and two upstairs, all feature the same natural tones with black added for dramatic effect.
The Evoque is topped off by a two-car garage at the front of the home.
Multiple living zones
Like many modern homes, the Evoque has several living zones to accommodate the needs of different members of the family, and for entertaining guests.
This begins with the functional media room that is adjacent to the kitchen. This room could also serve as a multi-purpose living area or a home office.
At the rear of the display home is an open-plan living area that includes a family room, dining area and kitchen. The family room includes a striking gas-powered fireplace that adds atmosphere and gives the room a strong focal point.
This living zone opens out to an alfresco dining area that features a vertical garden, providing a touch of nature as well as ingredients for the kitchen.
And finally upstairs is a large sitting room at the front of the house with a balcony that opens to the front of the house, providing excellent ventilation and connection to the outside world.
Comfortable luxurious bedrooms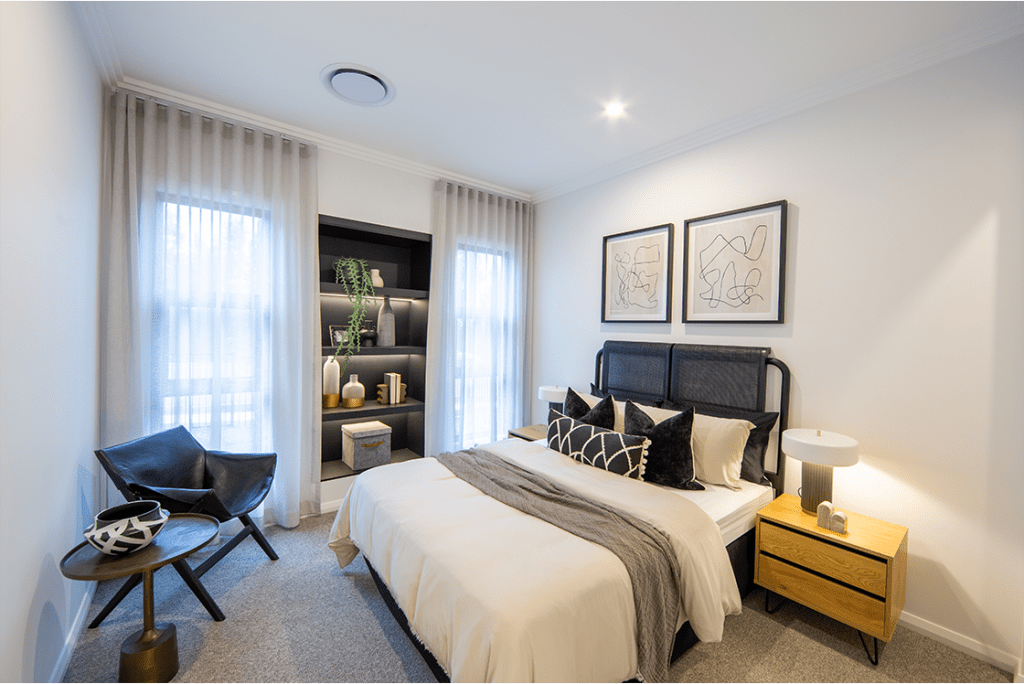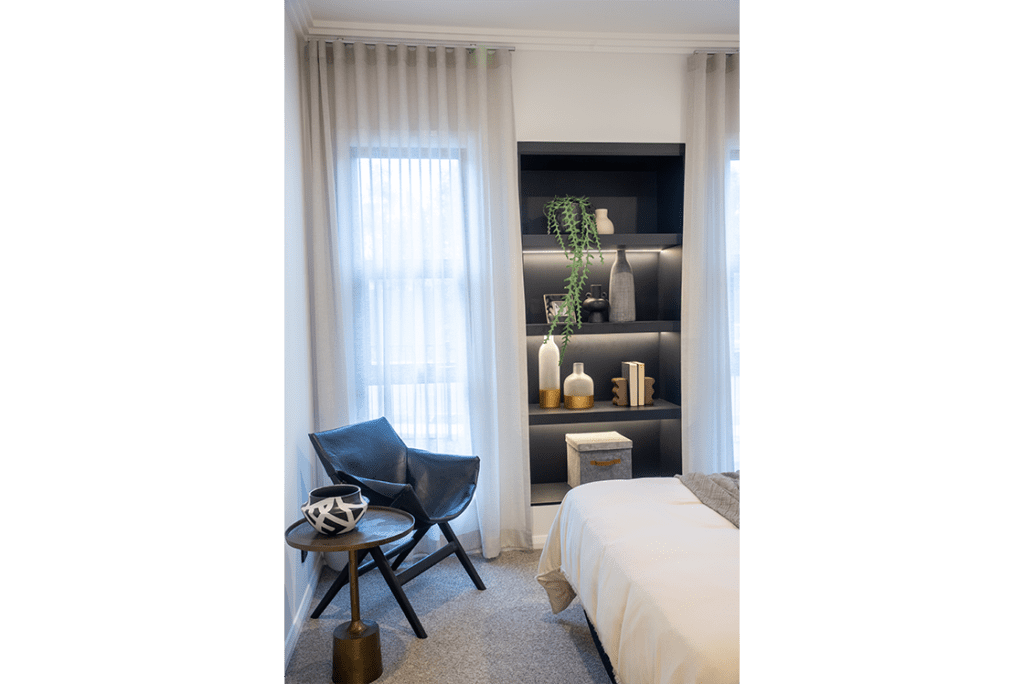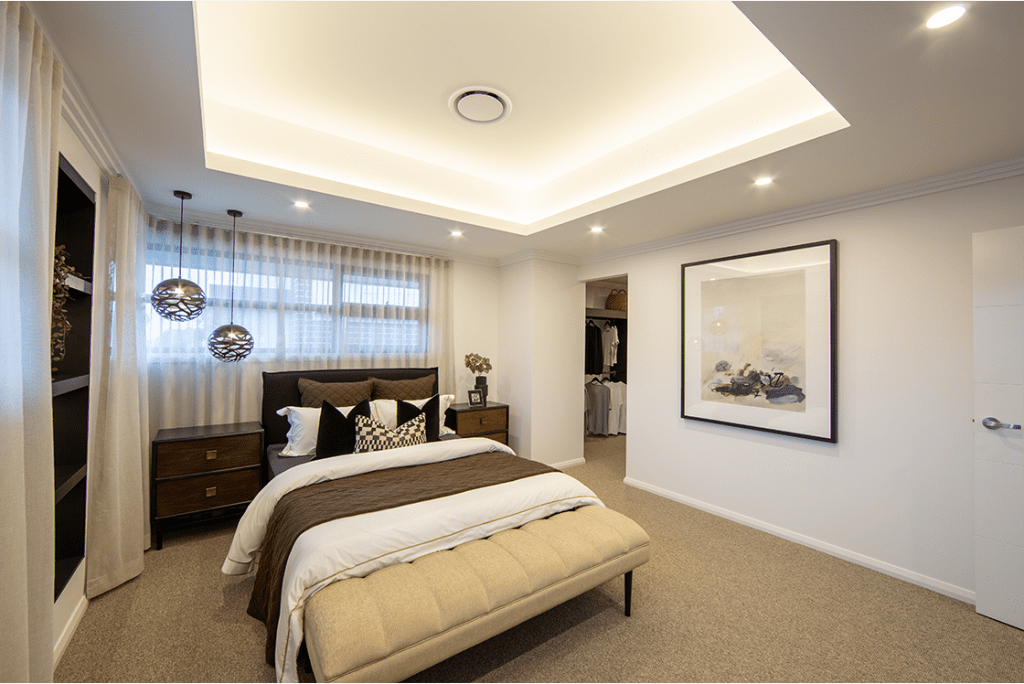 The Evoque has five bedrooms which includes a guest bedroom beside the front door. The guest bedroom includes a walk-in robe and is close to the main bathroom for easy access and a private zone for guests.
Upstairs is a generous-sized master bedroom with a large walk-in robe and ensuite bathroom located at the front of the home. The ceiling of the master bedroom has a niche that provides a level of sophistication that's not often seen in display homes.
The remaining three bedrooms and well-sized, each with a walk-in robe and easy access to a large, shared bathroom with a separate toilet.
Also upstairs, adjacent to the bedrooms is a study area that could be used for school students or their parents working from home.
Why build with Kurmond Homes?
Building a new home is a major commitment, and it's good to have an experienced, dependable team like Kurmond by your side.
We invite you to come and experience the Evoque for yourself at Homeworld Leppington. To discover more about building your dream home with Kurmond Homes, please contact us today or visit one of our display homes at Leppington, Box Hill and Marsden Park.
Read More Kurmond Articles: